Your sumptuous penthouse on the South Shore
Are you looking for an elegant penthouse in a prime location that offers you the best of the South Shore? No need to compromise on the luxury of your future home. Live in an exceptional environment surrounded by shops, offices, public transport, and many green spaces. Devimco invites you to discover the penthouses of Oria Condominiums, in Solar Uniquartier, as well as those of Sir Charles Condominiums, in the Longueuil's future downtown core. Sought-after locations that will take your lifestyle to new heights!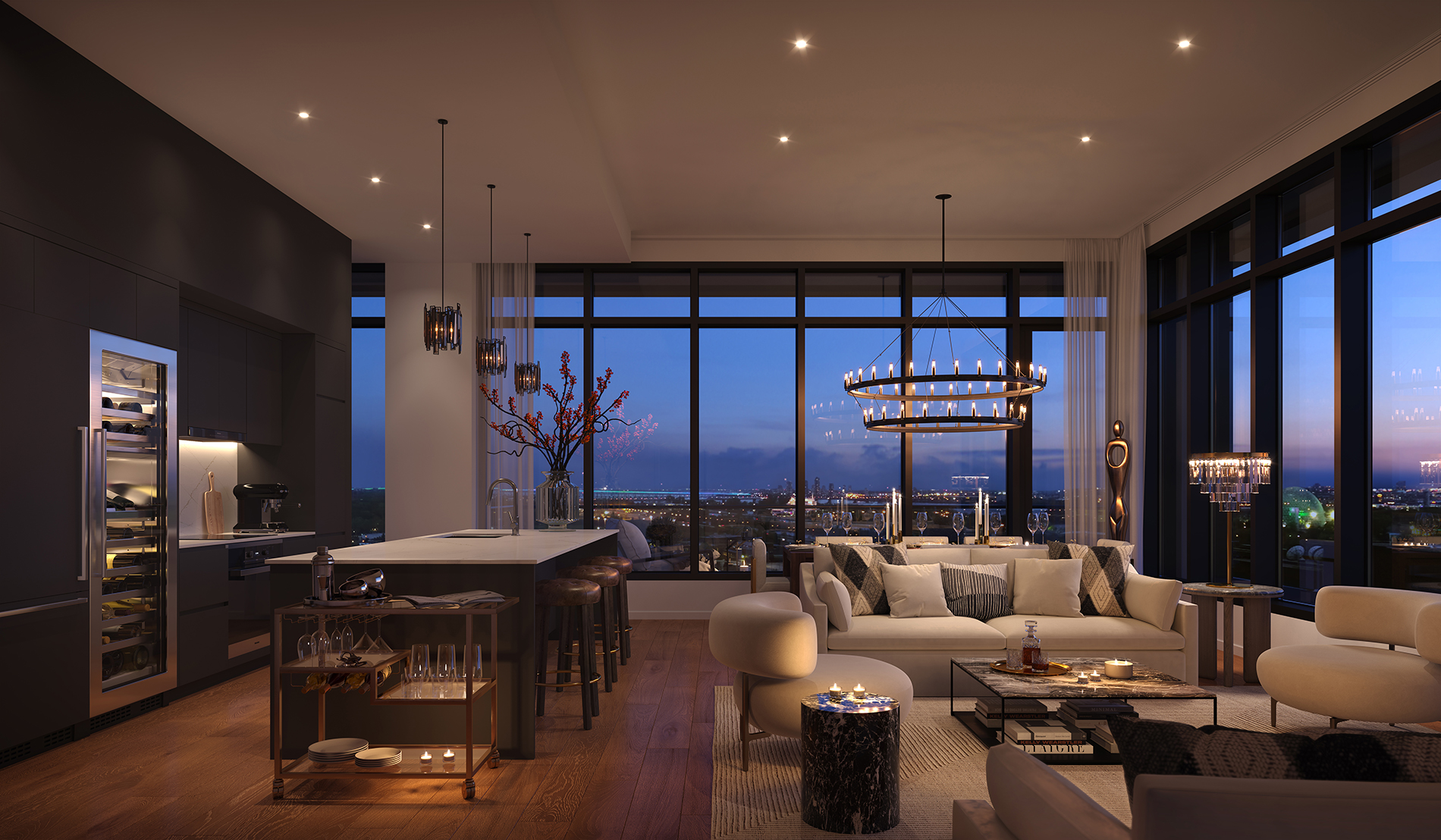 Unparalleled comfort and amenities
To offer you the ultimate in quality, our penthouses are designed with the most prestigious finishes!
At Oria Condominiums, the penthouse collection on the upper floors of phases 1 and 2 of the project invites you to a living space as uniquely individual as you are. You will find 11-foot ceilings, a walk-in pantry, and a master bathroom with heated floors. The kitchen is equipped with high-end appliances such as an induction cooktop, a convection oven, a dishwasher, a fridge/freezer and a built-in wine cellar. Each unit features oversized windows that let in natural light, and up to 2,382 square feet of living area.
If you prefer living in Longueuil's future downtown core, the penthouses in the Sir Charles Condominiums project offer similar facilities. And obviously, who says penthouse says pinnacle of luxury. From atop your own private living space, enjoy the magnificent views of downtown, the Jacques Cartier Bridge and the Eastern Townships.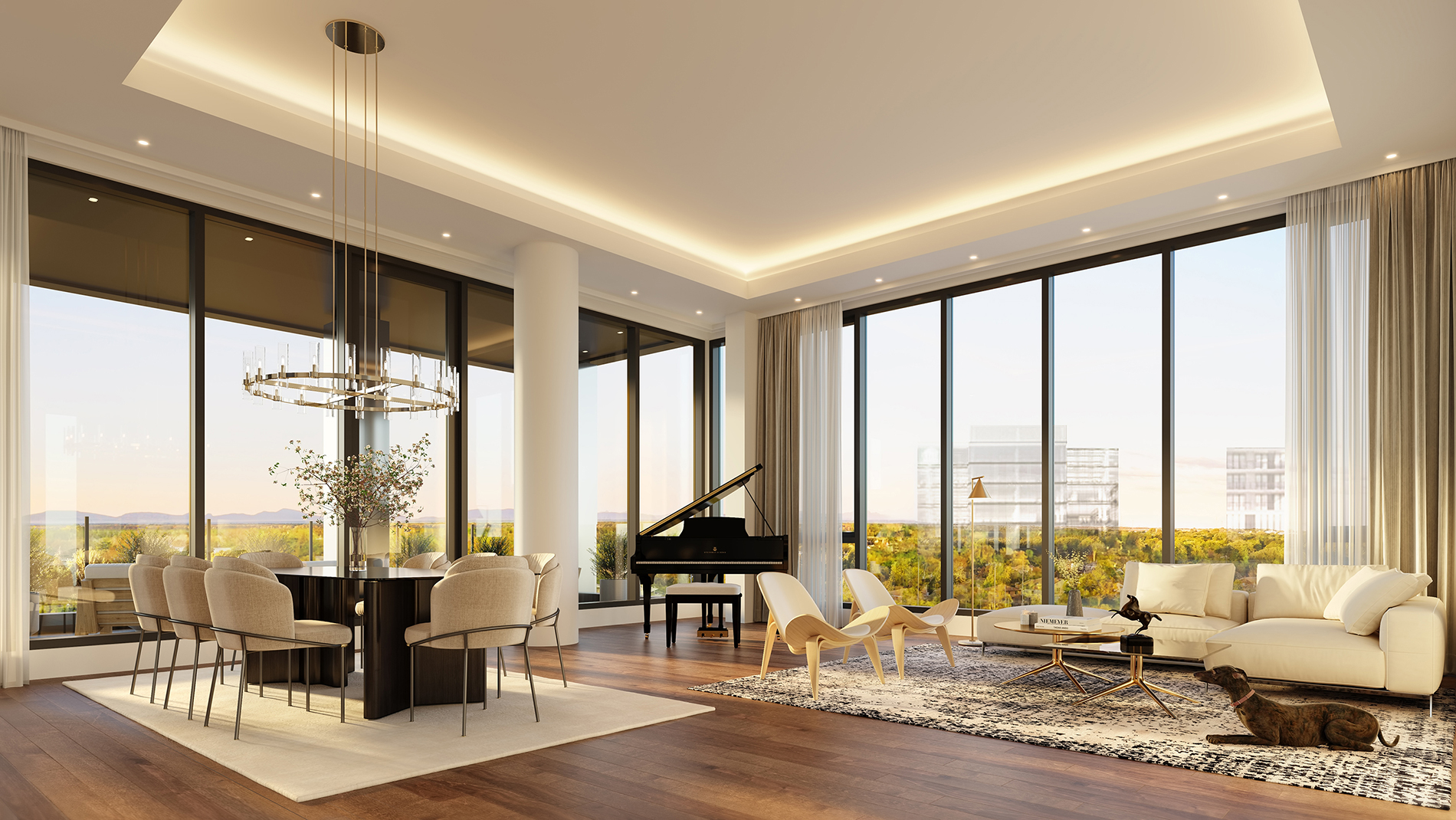 Exquisite common areas
Living in a penthouse at Oria Condominiums or Sir Charles Condominiums also means enjoying sumptuous common areas. Everything was designed to meet your every need. At Oria, you will have exclusive and unlimited access to an inner courtyard that connects both phases of the project, a dog park, and a collective urban garden. You will also enjoy:
The magnificent lobby
The fully equipped training centre
Indoor and outdoor pools
The Scandinavian spa and hydrotherapy circuit
The Skylounge
The coworking space
The urban chalet
The beautifully appointed rooftop terrace
And much more!
At Sir Charles, the architecture was inspired by the grandiose homes of Williamsburg, Dumbo and SoHo. Everything was thought-out to offer you a dynamic, peaceful and remarkable lifestyle:
An impressive lobby
A cozy lounge
A bright and fully equipped gym
An inner courtyard with training modules
An indoor Nordic spa with a hot bath and a waterfall, an invigorating cold bath, a hammam and a dry sauna
A relaxation area with a fireplace and windows all around
A rooftop terrace with a swimming pool, outdoor beds, a fully equipped kitchen area with BBQs, a lounge with armchairs and a pergola.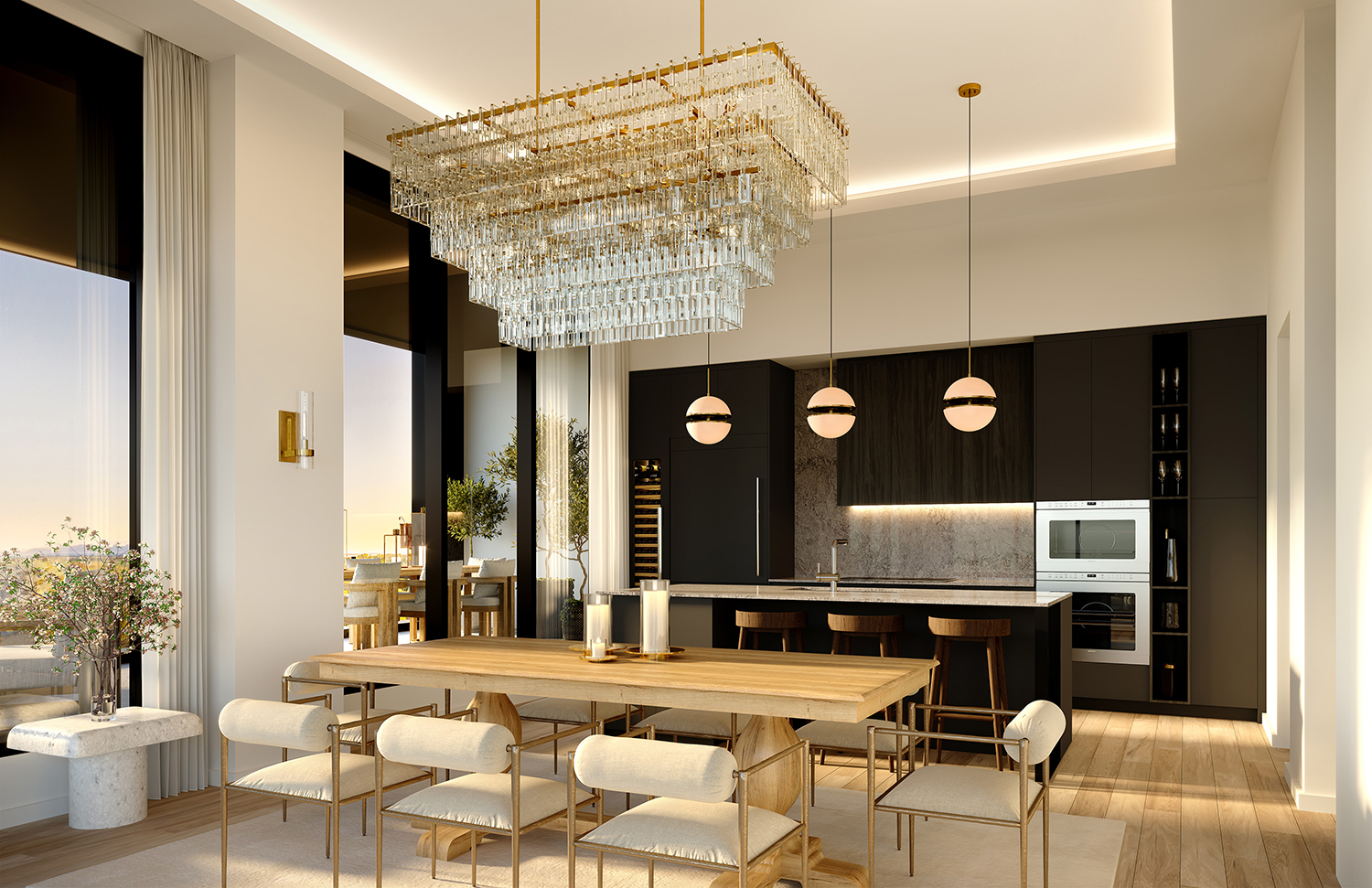 A lively neighbourhood
Buying a penthouse on the South Shore means accessing a unique lifestyle, and benefiting from the tranquillity of nature and the effervescence of the city.
At Oria Condominiums, in the heart of Solar Uniquartier, you will have direct access to the REM, which will take you to downtown Montreal in just a few minutes. Buses, bike paths and major highways will get you where you need to be quickly and easily. The neighbourhood features many gourmet addresses, renowned businesses, office spaces, and the new UdeM campus. A public market where farmers and artisans sell locally-sourced products is open for the summer season.
The Sir Charles Condominiums project is located in Longueuil's future downtown core, close to the Jacques Cartier Bridge and the Longueuil–Université-de-Sherbrooke metro station. If you like culture, arts, fine dining and the city's hustle and bustle, you will be delighted by everything this neighbourhood has to offer. Local shops, hotels, cafés and restaurants will soon be opening their doors around the Sir Charles project, in addition to several educational institutions such as Université de Sherbrooke's campus and Cégep Édouard-Montpetit.
Parks and greenery
If you enjoy outdoor activities, the South Shore will charm you with its proximity to the banks of the St. Lawrence River, Mont-Saint-Bruno and Îles-de-Boucherville national parks, and the picturesque villages and green mountaintops of the Montérégie and Estrie regions.
Solar Uniquartier integrates many parks, and the largest one extends through the Oria Condominiums project.
As for Longueuil's future downtown core, it offers a unique lifestyle, in close proximity to the St. Lawrence River, its riverside park, and nautical activities. Sir Charles' inner courtyard is lined with trees and plants and the adjoining
4,000-square-metre municipal park will provide residents
with a peaceful oasis of greenery.
Are you interested in buying a penthouse in Oria or Sir Charles?
To explore the luxurious world of Oria Condominiums, visit the website or check out the brochure .
To discover the advantages of living at Sir Charles Condominiums, visit the website or check out the brochure.